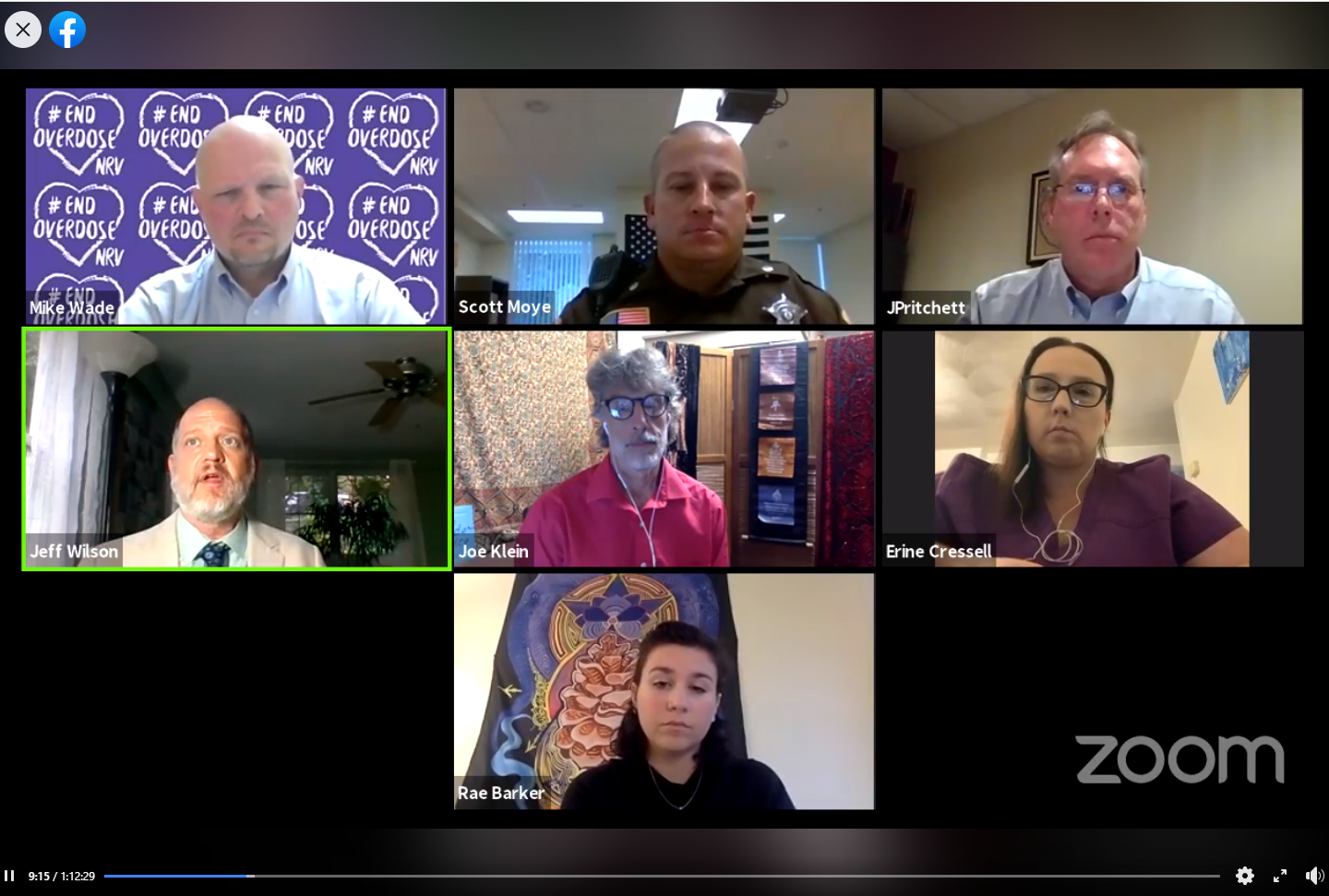 Click here or on the image above to view.
Last Monday, August 31, officials with NRVCS (New River Valley Community Services) hosted the "End Overdose NRV" Virtual Town Hall to help call attention to the growing number of overdoses in the region. The virtual event, held in conjunction with International Overdose Awareness Day, was conducted via Zoom and streamed live via the NRVCS Facebook page.
Moderated by Mike Wade, NRVCS Coordinator of Community Wellness & Outreach, panelists for the discussion included:
– James Pritchett, NRVCS Executive Director
– Dr. Jeffrey Wilson, NRVCS Medication Assisted Treatment (MAT) provider,
– Joe Klein, Program Supervisor of NRVCS' partial hospitalization program (Recovery Dojo)
– Chief Deputy Scott Moye, Giles County Sheriff's Office
– Erine Cressell, local resident in long-term recovery and a Registered Nurse
– Rae Barker, local resident in long-term recovery and a graduate student at Radford University
Given concerns around COVID-19, the virtual town hall was developed to take place of the annual candlelight vigil NRVCS had hosted the previous three years to commemorate International Overdose Awareness Day. Although he admits nothing can replace the emotion of having families and supporters gathered in a physical location to honor and remember lives lost, Wade says the virtual event reached a far larger audience than any of the candlelight vigils had.
"Between the live event and the replay that was made available immediately afterward, we had over 1,000 views in less than 12 hours," notes Wade. "One week later, the post has had a reach of more than 2,600."
"What I'm most pleased about is the fact that so many people got the opportunity to hear directly from Erine and Rae, who each shared the very real struggles of substance use disorder," Wade adds, "but they are both living proof that recovery is possible – and I think that message of hope is the most important takeaway from our event."
#EndOverdoseNRV