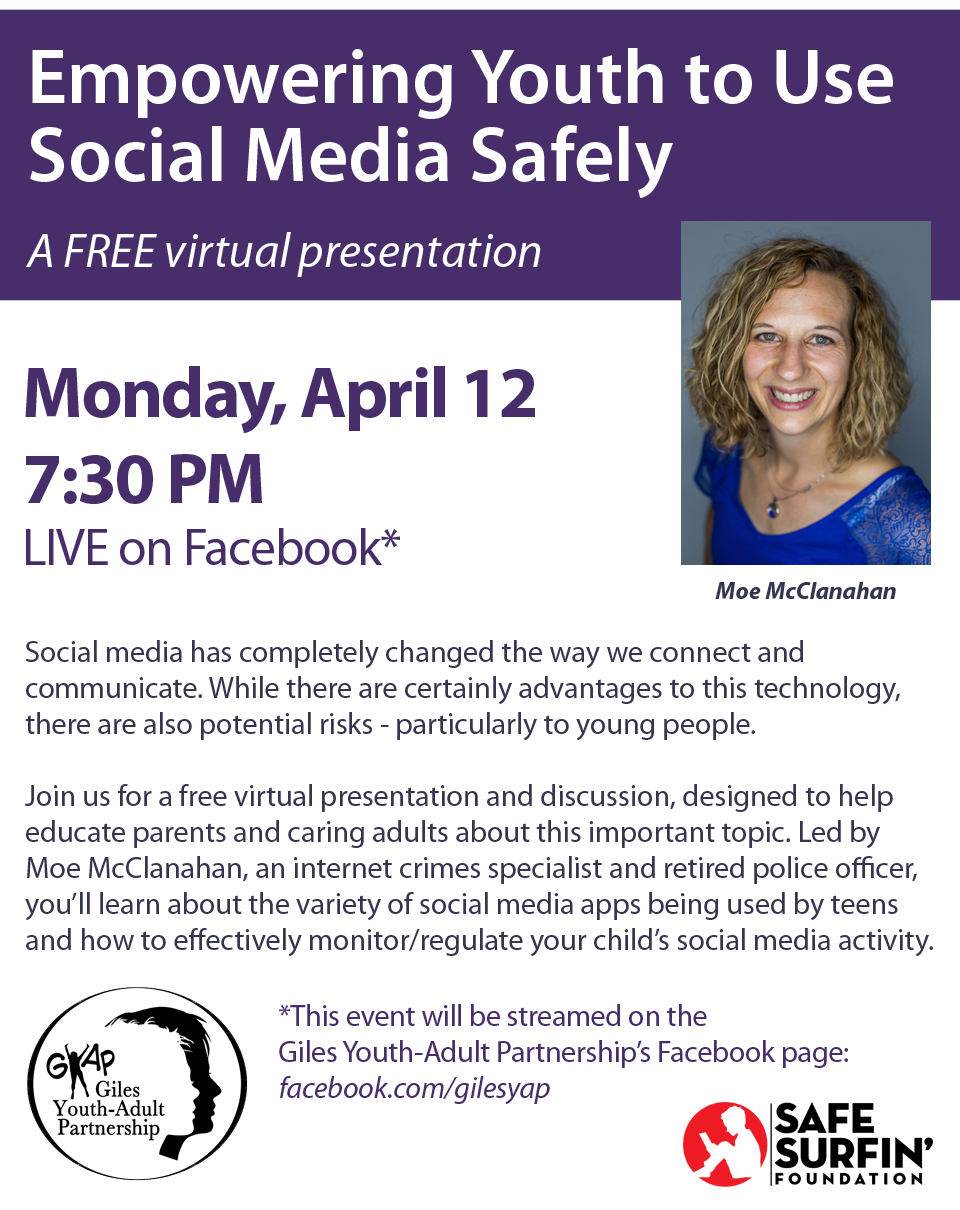 Social media has completely changed the way we connect and communicate. While there are certainly advantages to this technology, there are also potential risks – particularly to young people.
The Giles Youth-Adult Partnership (GYAP) is hosting a free virtual presentation and discussion on Monday, April 12, designed to help educate parents and caring adults about this important topic. The program will be streamed live on GYAP's Facebook page: www.facebook.com/gilesyap.
Led by Moe McClanahan, an internet crimes specialist and retired police officer, those who attend will learn about the variety of social media apps being used by teens and how to effectively monitor/regulate your child's social media activity.
McClanahan is a High-Tech Crime Specialist with the National White Collar Crime Center (NW3C). Recently retired after 20 years of service from the Christiansburg Police Department (CPD) in Virginia, Moe served her last 8.5 years at CPD as the Internet Crimes Against Children (ICAC) Investigator. During her time as an ICAC Investigator, she trained and educated over 10,000 children, parents, and police officers in Internet safety. Moe also serves as the Director of Training and Education with the Safe Surfin' Foundation where she continues to educate on Internet safety.
"Unfortunately, many parents are simply unaware of the multiple apps and social media platforms that are out there," notes Mike Wade, Coordinator of Community Wellness & Outreach for New River Valley Community Services. "It's a world that goes far beyond Facebook and Instagram and young people are not only connecting with their friends that go to the same school – they are often interacting with total strangers, who may not have the best of intentions."
To underscore the potential danger, Wade points to recent stories of teens from different parts of the U.S. who have died from overdose after purchasing illicit substances from strangers through the app, Snapchat. (Dr. Laura Berman, a syndicated television talk therapist, lost her 16-year-old son earlier this year after her purchased fentanyl-laced Xanax from a drug dealer over Snapchat.)
"We hope this program and discussion will help make parents and caregivers more aware of the risks that are out there and better equip them to have healthy conversations with their child or teen about the do's and don'ts of using social media," he concludes.
The Giles Youth-Adult Partnership is a community coalition of citizens and stakeholders who have a shared interest in the overall well-being of Giles County. The group is currently meeting the second Monday of each month at 10:00 a.m. via Zoom. To join the GYAP mailing list and/or to attend an upcoming meeting, email Mike Wade at mwade@nrvcs.org.