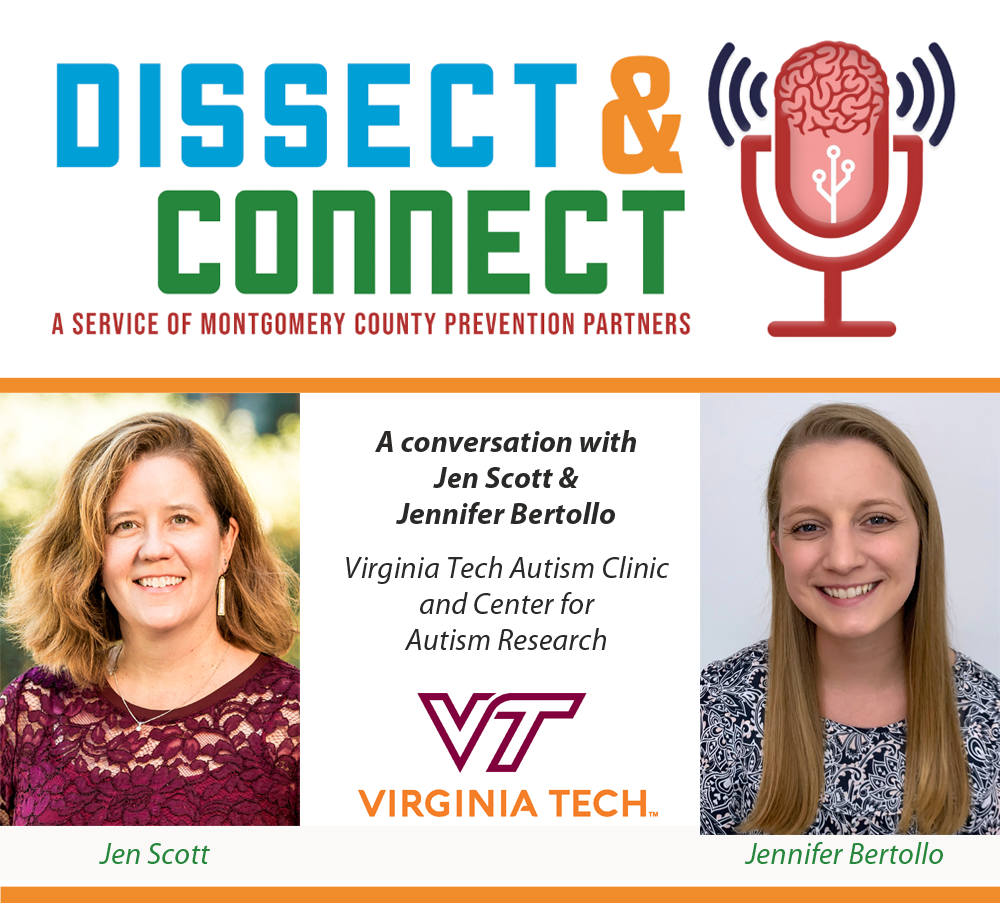 Click here or on the graphic above to listen to this week's episode! (Also available on Spotify and iTunes/Apple)
Jen Scott and Jennifer Bertollo are with the Virginia Tech Autism Clinic and Center for Autism Research (VTAC/CAR). Jen is the Rural Outreach and Grants Coordinator for VTAC/CAR. Jennifer is a doctoral student in the Clinical Psychology Program at Virginia Tech, who completes much of her clinical and research training at the Clinic/Center.
In our discussion, the two give an overview of autism, as well as associated risk factors and some of the common misconceptions about individuals living with autism spectrum disorder. They also share how the VTAC/CAR's Mobile Autism Clinic is used to help connect families in rural communities.
Contact information for the Virginia Tech Autism Clinic and Center for Autism Research:
Phone: 540-231-2053
Email: vtautismcenter@vt.edu
Websites:
VT Autism Clinic and Center for Autism Research (VTAC/CAR) –http://www.vtcar.science.vt.edu/
VT Child Study Center – http://childstudycenter.wixsite.com/c…
VT Psychological Services Center – http://support.psyc.vt.edu/centers/psc/
CA Human Services (based in Richmond, VA) education, trainings and services – http://cahumanservices.org/
Virginia Autism Council – provides a clearinghouse of a variety of information – http://autismtrainingva.vcu.edu/
National organizations that provide advocacy, education, information and referral, and support:
Autism Society – http://www.autism-society.org/
Autism Speaks – http://www.autismspeaks.org/
Organization for Autism Research: parent-led, science-focused; offers information and resources for those with ASD looking for jobs, as well as safety information and information specifically for military families – http://researchautism.org/
Other resources:
Spectrum News – A leading source of news and expert opinion on autism research – http://www.spectrumnews.org/
Book recommendation:
Overcoming Autism: Finding the Answers, Strategies, and Hope That Can Transform a Child's Life by Lynn Kern Koegel and Claire LaZebnik – https://www.amazon.com/Overcoming-Aut…
Sponsor Information:
Teen Connections https://www.plannedparenthood.org/pla…
Contact: Malinda Britt, PPSAT Community Health Educator
Malinda.Britt@ppsat.org / (540) 315-2130