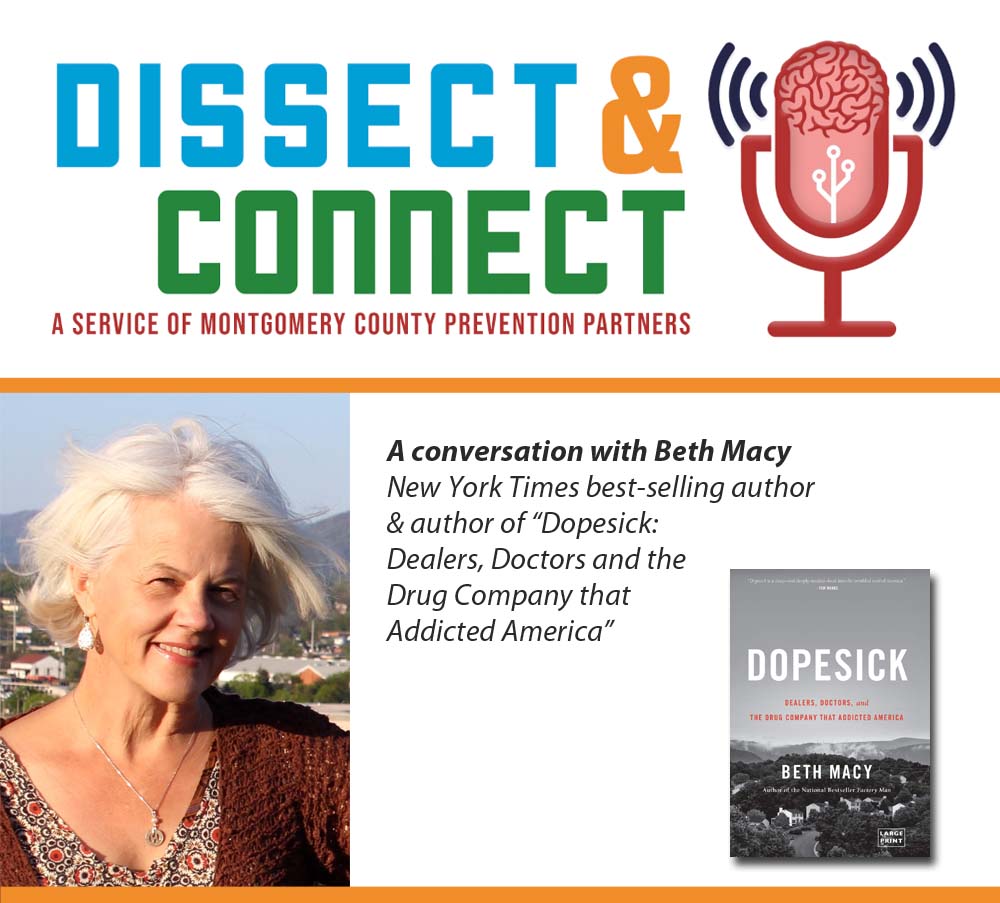 Our latest podcast features an interview with New York Times best-selling author Beth Macy, author of "Dopesick: Dealers, Doctors, and The Drug Company That Addicted America." Macy is also creator of the Audible Original audio documentary, "Dopesick: Finding Tess."
In our conversation, we discuss the overwhelming response to "Dopesick" and some of the spinoff projects inspired by the book. Macy also shares what she's personally gained from the experience and what it was like to grow up with a parent who struggled with addiction.
Listen here (YouTube link): https://youtu.be/GWePTX-NdLM 
Dissect & Connect is also available under "Podcasts" on Spotify and Apple.
Resources for this episode:
Beth Macy's website: https://intrepidpapergirl.com/
Beth Macy on Facebook: https://www.facebook.com/authorBethMacy/
Beth Macy on Twitter: https://twitter.com/papergirlmacy
Recommended Books:
In Pain: A Bioethicist's Personal Struggle with Opioids by Travis Rieder
Long Bright River (A Novel) by Liz Moore
Pain Killer: An Empire of Deceit and the Origin of America's Opioid Epidemic by Barry Meier
Dreamland: The True Tale of America's Opiate Epidemic by Sam Quinones
American Overdose: The Opioid Tragedy in Three Acts by Chris McGreal
Fentanyl, Inc.: How Rogue Chemists Are Creating the Deadliest Wave of the Opioid Epidemic by Ben Westhoff
Sponsor Information:
Teen Connections https://www.plannedparenthood.org/pla…
Contact: Malinda Britt, PPSAT Community Health Educator Malinda.Britt@ppsat.org / (540) 315-2130